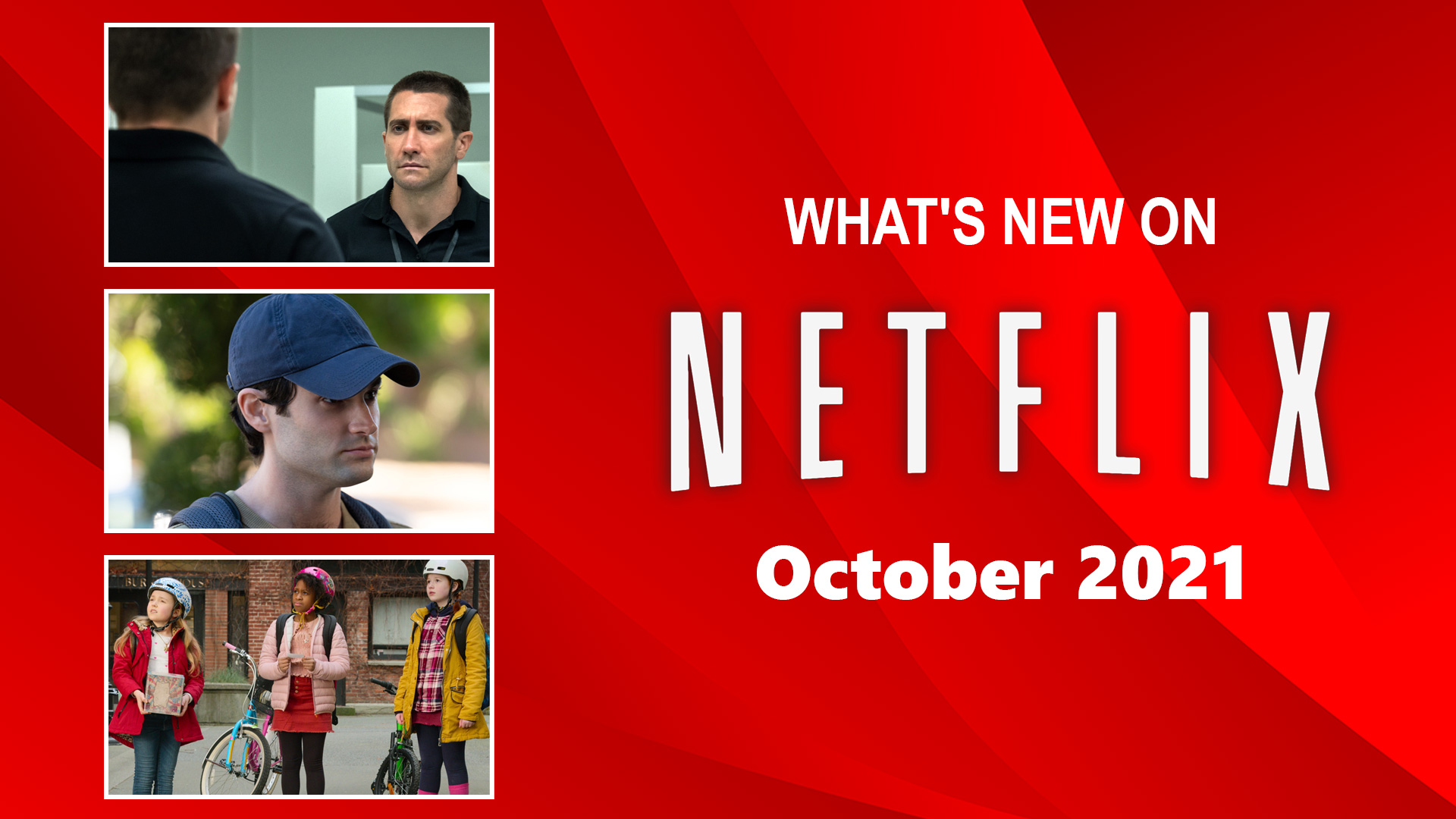 With Halloween on the way, Netflix has you covered! They have a number of Halloween-themed movies and series -- but that's not all, there's an entire month with a variety of new productions to enjoy, from drama films to new comedy series to true crime stories. Check out the best original movies and TV shows coming to Netflix this October below! ~Alexandra Heilbron

🎃 Scary Shows and Movies to prep you for Halloween!

Scaredy Cats - October 1
On Willa Ward's (Sophia Reid-Gantzert) 12th birthday, she inherits a beautiful cat amulet necklace that belonged to her mother, whom she discovers was a witch. When she learns that two bad witches are after her locket for its power, she and her best friends Scout (Ava Augustin) and Lily (Daphne Hoskins) must learn to use the necklace and Willa's witch powers to defeat the bad witches and save their town.

There's Someone Inside Your House - October 6
Makani Young (Sydney Park) has moved from Hawaii to quiet, small-town Nebraska to live with her grandmother and finish high school, but as the countdown to graduation begins, her classmates are stalked by a killer intent on exposing their darkest secrets to the entire town. With a mysterious past of her own, Makani must discover the killer's identity her new friends become victims themselves.

A Tale Dark & Grimm - October 8
In this animated series, Hansel and Gretel run away from home to find better parents...or at least ones who won't chop off their heads. As they walk out of their own story and venture through other classic Grimm fairy tales, the siblings learn the true story behind the famous tales.

Fever Dream - October 13
A young woman lies dying far from home. A boy sits beside her. She is not his mother. He is not her child. Together, they tell a haunting story of broken souls, an invisible threat, and the power and desperation of family. Based on the critically acclaimed novel by Samanta Schweblin.

Sharkdog's Fintastic Halloween - October 15
The Sharkpack gets ready for Halloween with the spooky legend of the "Fearsome Fog" — and Sharkdog must save trick-or-treating from a slimy sea monster!

Night Teeth - October 20
College student Benny (Jorge Lendeborg Jr.) is moonlighting as a chauffeur when he picks up two mysterious women (Debby Ryan, Lucy Fry) for a night of party-hopping across Los Angeles. But when he uncovers their bloodthirsty intentions — and their dangerous, shadowy underworld — he must fight to stay alive.

Locke & Key: S2 - October 22
After their father is murdered under mysterious circumstances, the three Locke siblings and their mother move into their ancestral home, Keyhouse, which is full of magical keys that may be connected to their father's death. As the children explore the different keys and their unique powers, a mysterious demon awakens.

Hypnotic - October 27
A young woman seeking self-improvement enlists the help of a renowned hypnotist, but after a handful of intense sessions, soon discovers unexpected and deadly consequences.

True-Life Crime Documentaries

A Sinister Sect: Colonia Dignidad - October 1
This new documentary series uncovers the truth behind a German Nazi sect that was established by charismatic and manipulative leader Paul Schäfer in Chile in 1961. The leader had been part of the Hitler Youth in Germany. The sect was involved in a number of scandals, including pedophilia, arms trafficking, murders, kidnappings and slavery.

House of Secrets: The Burari Deaths - October 8
Suicide, murder... or something else? This docuseries examines chilling truths and theories around the deaths of 11 members of the Chundawat family from Burari, Delhi.

The Motive - October 27
Decades after a 14-year-old boy brutally killed his parents and two sisters in Jerusalem in 1986, this documentary revisits the horrifying crime. Throughout all the years that have passed, everyone continues to be disturbed by the dissonance between the character of the small, bespectacled boy who was so composed, brilliant, and kind – and the monstrous massacre that he committed.



Specials

Diana: The Musical - October 1
With music and lyrics by David Bryan, the dazzling and devastating life of Princess Diana takes center stage in this original musical, filmed in advance of its official Broadway opening.

One Night in Paris - October 14
Mixing sketches with rapid-fire sets, this special brings together top comedians from France's stand-up scene as they explore life during the pandemic.

Flip a Coin: ONE OK ROCK Documentary - October 21
Unable to tour in 2020, the members of ONE OK ROCK work for months to put on an online concert that matches the energy of their in-person shows.



Original Drama Films

Forever Rich - October 1
When rising rap superstar Richie's (Jonas Smulders) precious watch is stolen during a violent robbery, the thieves record it in order to embarrass the young performer. The humiliating video goes viral and pushes him into a battle for redemption — over the course of one long night.

The Guilty - October 1
When 911 operator Joe Baylor (Jake Gyllenhaal) receives a cryptic call from a woman (Riley Keough) who seems to be discreetly reporting her own abduction, he uses his experience as a former police officer to try to find her location and save her.

Swallow - October 1
Waylaid by life's pressures in 1980s Lagos, Nigeria, naive secretary Tolani Ajao (Niyola) becomes involved in drug smuggling with her streetwise friend and must face the fallout.

Brand New Series

MAID - October 1
Alex (Margaret Qualley) is a single mother who turns to housecleaning to — barely — make ends meet as she escapes an abusive relationship and overcomes homelessness to create a better life for her young daughter, Maddy in this new series. Inspired by the New York Times best-selling memoir, Maid: Hard Work, Low Pay, and a Mother's Will to Survive by Stephanie Land.

The Billion Dollar Code - October 7
In 1990s Berlin, an artist and a hacker invented a new way to see the world. Years later, they reunite to sue Google for patent infringement on it.

Pretty Smart - October 8
Book-smart Chelsea (Emily Osment) discovers she has a lot to learn about happiness when she's forced to move in with her bubbly sister and three eccentric roommates.

The King's Affection - October 11
When the crown prince is killed, his twin sister assumes the throne while trying to keep her identity and affection for her first love a royal secret.

Colin in Black & White - October 29
This drama series from Colin Kaepernick and Ava DuVernay explores Kaepernick's high school years and the experiences that led him to become an activist.



Returning Series

On My Block: S4 - October 4
Two years after going their separate ways, Ruby (Jason Genao), Jamal (Brett Gray), Monse (Sierra Capri) and Cesar (Diego Tinoco) face new threats and must decide if their friendship is truly ride or die.

Family Business: S3 - October 8
Whisked off to a remote monastery, the Hazans contend with volatile captors, a mind-bending new product line and a doozy of a family secret.

The Baby-Sitters Club: S2 - October 11
As demand for their club continues to grow, founders Kristy Thomas (Sophie Grace), Mary-Anne Spier (Malia Baker), Claudia Kishi (Momona Tamada), Stacey McGill (Shay Rudolph), and Dawn Schafer (Xochitl Gomez) have now welcomed Mallory Pike (Vivian Watson) and Jessi Ramsey (Anais Lee) to their ranks. With the new school year comes booming business, new relationships, personal journeys, and important lessons, but through it all the girls are there for each other every step of the way.

The Movies That Made Us: S3 - October 12
Insiders reveal the stories behind more of your favorite megahits, including Aliens, A Nightmare on Elm Street, Coming to America and The Nightmare Before Christmas in this funny, eye-opening docuseries.

Another Life: S2 - October 14
The stakes couldn't get higher as astronaut Niko Breckenridge (Katee Sackoff) and her crew witness the annihilation of a planet. How do you negotiate with aliens capable of such brutality?

You: S3 - October 15
Joe (Penn Badgley) and Love (Victoria Pedretti), now married and raising their baby, have moved to the balmy Northern California enclave of Madre Linda, where they're surrounded by privileged tech entrepreneurs, judgmental mommy bloggers and Insta-famous biohackers. Joe is committed to his new role as a husband and dad, but fears Love's lethal impulsiveness. And then there's his heart. Could the woman he's been searching for all this time live right next door? Breaking out of a cage in a basement is one thing. But the prison of a picture-perfect marriage to a woman who's wise to your tricks? Well, that'll prove a much more complicated escape.

Luis Miguel - The Series: S3 - October 28
While overcoming personal struggles, Luis Miguel contemplates sharing his life story. In the '90s, he strikes up a relationship with Mariah Carey.

Animated Programming for Pre-Schoolers

Pokémon the Movie: Secrets of the Jungle - October 8
Koko grows up in the jungle with a solitary Zarude. When he meets Ash and Pikachu, he discovers the human world — and a plot threatening his home!

Mighty Express: S5 - October 12
The Mighty Express trains team up on the tracks to deliver a huge rubber ducky, a giant robot and tons of pizza on exciting mega missions!

Karma's World - October 15
Lyrically gifted middle schooler Karma (voice of Karma Grant) juggles rap dreams and rhyme schemes while using her talent, ambition and heart to solve any problem.

Gabby's Dollhouse: S3 - October 20
Gabby, Pandy and their crew of kitty friends are back with even more special deliveries, surprising journeys and make-at-home lessons, too!

Go! Go! Cory Carson: S6 - October 21
Beach days, bedtime stories and fun with best friends! Cory Carson's always on the go for more laughter and heartwarming lessons in Bumperton Hills!

Take a look at the full list of programming below — and also what's leaving the streamer.

October 1
A Sinister Sect: Colonia Dignidad
A Knight's Tale
An Inconvenient Truth
Are You Afraid of the Dark?: Season 1
As Good as It Gets
Awakenings
B.A.P.S.
Bad Teacher
The Cave
Desperado
The Devil Inside
Diana: The Musical
Don't Be a Menace to South Central While Drinking Your Juice in the Hood
Double Team
The DUFF
Eagle Eye
Endless Love
Forever Rich
Ghost
Gladiator
The Guilty
Hairspray (2007)
The Holiday
Jet Li's Fearless
The Karate Kid (2010)
MAID
Observe and Report
Once Upon a Time in Mexico
Paik's Spirit
Project X
Robin Hood: Prince of Thieves
Rumor Has It...
Scaredy Cats
The Seven Deadly Sins: Cursed by Light
Seinfeld: Seasons 1-9
Serendipity
Spy Kids
Spy Kids 2: The Island of Lost Dreams
Spy Kids 3: Game Over
Step Brothers
Swallow
The Ugly Truth
Till Death
Titanic
Tommy Boy
Unthinkable
Waterworld
Zodiac

October 3
Scissor Seven: Season 3
Upcoming Summer

October 4
On My Block: Season 4

October 5
Escape The Undertaker

October 6
Bad Sport
Baking Impossible
The Blacklist: Season 8
Ella Fitzgerald: Just One of Those Things
The Five Juanas
Land of the Lost
Love Is Blind: Brazil
Minions
There's Someone Inside Your House

October 7
The Billion Dollar Code
Sexy Beasts: Season 2
​​The Way of the Househusband: Season 1 Part 2

October 8
A Tale Dark & Grimm
Family Business: Season 3
Grudge / Kin
​​LOL Surprise: The Movie
My Brother, My Sister
Pokémon the Movie: Secrets of the Jungle
Pretty Smart

October 9
Blue Period

October 11
The Baby-Sitters Club: Season 2
Going in Style
The King's Affection
Shameless: Season 11

October 12
Bright: Samurai Soul
Convergence: Courage in a Crisis
Making Malinche: A Documentary by Nacho Cano
Mighty Express: Season 5
The Movies That Made Us: Season 3
Rita Moreno: Just a Girl Who Decided to Go For It
Smart People

October 13
Fever Dream / Distancia de Rescate
Hiacynt
Love Is Blind: Brazil (new episodes weekly)
Reflection of You
Violet Evergarden the Movie

October 14
Another Life: Season 2
​​In the Dark: Season 3
One Night in Paris

October 15
CoComelon: Season 4
The Forgotten Battle
The Four of Us
Karma's World
Little Things: Season 4
My Name
Power Rangers Dino Fury: Season 1
Sharkdog's Fintastic Halloween
The Trip
You: Season 3

October 16
Misfit: The Series
​​Victoria & Abdul

October 19
In for a Murder / W jak morderstwo

October 20
Found
Gabby's Dollhouse: Season 3
Love Is Blind: Brazil (new episodes weekly)
Night Teeth
Sinister
Stuck Together

October 21
Flip a Coin -ONE OK ROCK Documentary
Go! Go! Cory Carson: Season 6
Insiders
Komi Can't Communicate
Life's a Glitch with Julien Bam
Sex, Love & goop

October 22
Adventure Beast
​​Dynasty: Season 4
Inside Job
Little Big Mouth
Locke & Key: Season 2
Maya and the Three
More than Blue: The Series
Roaring Twenties

October 24
We Steal Secrets: The Story of WikiLeaks

October 25
King Arthur: Legend of the Sword

October 26
Roswell, New Mexico: Season 3
Sex: Unzipped

October 27
Begin Again
Hypnotic
Nobody Sleeps in the Woods Tonight Part 2
Sintonia: Season 2
Wentworth: Season 8 (new episode)

October 28
Luis Miguel – The Series: Season 3
The Motive

October 29
Army of Thieves
Colin in Black & White
Dear Mother
Mythomaniac: Season 2
Roaring Twenties
Thomas & Friends: All Engines Go
The Time It Takes

LAST CALL
October 1
Death Race: Beyond Anarchy
Tales From the Hood 2

October 3
Angel Has Fallen

October 6
Real Steel

October 14
Cheech & Chong's Still Smokin

October 15
The Creative Brain

October 17
U Turn

October 20
Containment: Season 1
Free Fire

October 21
The Hummingbird Project

October 23
The Mist: Season 1

October 27
Rango
Shine On with Reese: Season 1

October 28
Pup Star

October 30
The 12th Man
Zack and Miri Make a Porno

October 31
60 Days In: Season 5
Angels & Demons
Battle: Los Angeles
Beowulf
Billy on the Street: Seasons 1-5
Catch Me If You Can
The Da Vinci Code
Ferris Bueller's Day Off
Forged in Fire: Season 6
The Heartbreak Kid
The Impossible
Inception
Legally Blonde
Mile 22
Norman Lear: Just Another Version of You
Reckoning: Limited Series
Snowden
Tenacious D in The Pick of Destiny
Yes Man